Windows Services
Serving all of Orange County with window repair and window replacement, Nick's Glass & Mirrors provides you with broken window replacement, broken glass replacement, window repairs, window installations, glass table tops, shower doors, store front glass and more.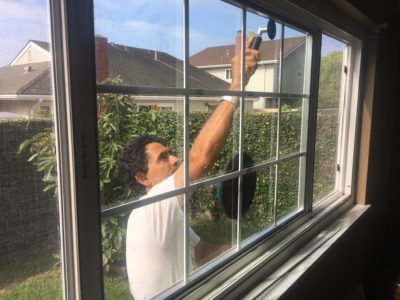 Window Repair Services
* Residential and Commercial Service
* Professional Service
* Fast Response Time
* Window Frame Repair
* Window Glass Replacement
* Crank & Mechanism Repair
* Window Parts Replacement
* Window Sill Repair
* All Types of Windows
Call Nick: 714-848-3109
Window Replacement
Do you have a window that has been broken or is cracked? Do you have a commercial or rental property that has a window that needs to be repaired? Nick's glass and mirrors can replace that broken window quickly and affordably. Whether it is a standard window or custom window we can repair broken windows.
One of the most effective ways to enlarge almost any room is to apply a mirror to one of its walls. This instantly draws light into the room, amplifies it and creates a sense of enlargement of the space. Essentially a mirror is a thin layer of metal that has been applied to a sheet of adhesion.  Because of this, it is very important to have any mirrored wall installed professionally.  You do not want to have the mirror come loose, suddenly slide off and break or become unstable over time. Almost every mirror installer appears to have done an excellent job installing a mirrored wall at first. It's only after a period of time has gone by do you find out if it has been installed properly or not. Even if you are considering selling your home in the near future, you don't want to risk having a mirrored wall break unexpectedly on the new homeowners.
Window Installation
Window installation is made easy when you call us for a free quote. We provide standard and custom windows and window installation. We offer competitive pricing with fast, professional windows ordered and installed. Window installation is a job you need to trust a professional window installer to complete for you to ensure a waterproof, smooth-operating window. The window installation you choose will impact your home's visual character, the amount of light and air allowed in your home or business and the frame view from outside. If a window installation is not done correctly unwanted water may seep in and cause damage. A professional window installation will help fortify your home or business, lowering energy cost and improving the value of the structure. Call us today for a free window quote!
Call Nick: 714-848-3109