Windows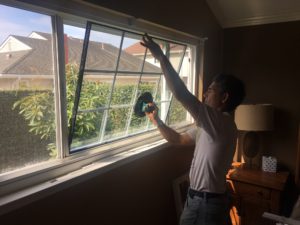 Serving all of Orange County with window repair and window replacement, Nick's Glass & Mirrors provides you with broken window replacement, broken glass replacement, broken window repair, window installations, glass table tops, shower doors, storefront glass and more.
Window Replacement
Do you have a window that has been broken or is cracked? Do you have a commercial or rental property that has a window that needs to be repaired? Nick's glass and mirrors can replace that broken window quickly and affordably. Whether it is a standard window or custom window we can repair broken windows.
One of the most effective ways to enlarge almost any room is to apply a mirror to one of its walls. This instantly draws light into the room, amplifies it and creates a sense of enlargement of the space. Essentially a mirror is a thin layer of metal that has been applied to a sheet of adhesion.  Because of this, it is very important to have any mirrored wall installed professionally.  You do not want to have the mirror come loose, suddenly slide off and break or become unstable over time. Almost every mirror installer appears to have done an excellent job installing a mirrored wall at first. It's only after a period of time has gone by do you find out if it has been installed properly or not. Even if you are considering selling your home in the near future, you don't want to risk having a mirrored wall break unexpectedly on the new homeowners.
We install all types and sizes of mirrored walls. Any size and any shape. The application of our mirrors is installed professionally and you can trust that the adhesion will stand the test of time. Give us a call today for a quote for your mirrored wall.
Brandy Lee
2018-12-18T11:03:17+00:00
We installed an arched double french door window that is [...]