Notice
: Undefined variable: content in
/var/www/wp-content/plugins/fusion-builder/shortcodes/fusion-popover.php
on line
106
Window Repair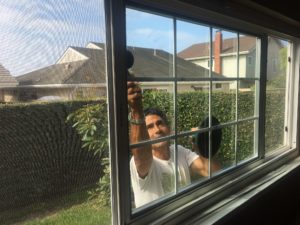 Do you have a broken window that needs to be repaired or replaced? Nick's Glass & Mirrors repairs broken windows! If you have a broken or cracked window we will come out to repair it for a great window repair price. If you have a window that traps fog, or that you have noticed fogs up, we can repair that window too. Nick's Glass & Mirrors serves all of Orange County with expert, professional and affordable broken window repair service. Call us today for your window repair quote. One of the most effective ways to enlarge almost any room is to apply a mirror to one of its walls. This instantly draws light into the room, amplifies it and creates a sense of enlargement of the space. Essentially a mirror is a thin layer of metal that has been applied to a sheet of adhesion.  Because of this, it is very important to have any mirrored wall installed professionally.  You do not want to have the mirror come loose, suddenly slide off and break or become unstable over time. Almost every mirror installer appears to have done an excellent job installing a mirrored wall at first. It's only after a period of time has gone by do you find out if it has been installed properly or not. Even if you are considering selling your home in the near future, you don't want to risk having a mirrored wall break unexpectedly on the new homeowners.
We repair all types and sizes of windows. Any size and any shape. The application of our windows is installed professionally and you can trust that the quality will stand the test of time. Give us a call today for a quote for your window repair.
Home Window Replacement

Broken Window Repair

Window Installation

Energy Efficient Windows

Broken Double Pane Window Repair
Brandy Lee
2018-12-18T11:03:17+00:00
We installed an arched double french door window that is [...]
Nick's offers energy efficient windows.
Low E Window Technologies include Low-E Coatings
Low-emittance (Low-E) coatings are microscopically thin, virtually invisible, metal or metallic oxide layers deposited on a window or skylight glazing surface primarily to reduce the U-factor by suppressing radiative heat flow. The principal mechanism of heat transfer in multilayer glazing is thermal radiation from a warm pane of glass to a cooler pane. Coating a glass surface with a low-emittance material and facing that coating into the gap between the glass layers blocks a significant amount of this radiant heat transfer, thus lowering the total heat flow through the window. Low-E coatings are transparent to visible light. Different types of low-E coatings have been designed to allow for high solar gain, moderate solar gain, or low solar gain.
In heating-dominated climates with a modest amount of cooling or climates where both heating and cooling are required, low-E coatings with high-, moderate- or low-solar-gains may result in similar annual energy costs depending on the house design and operation. While higher solar-gain glazings perform better in winter, lower solar-gain glazing's perform better in summer. In cooling-dominated climates, the priority is to lower solar gains.
Double-Glazed with High-Solar-Gain Low-E Glass
Window with a double-glazed, high-solar gain low-E glass with argon gas fill reduce heat loss but admit solar gain.
High-solar-gain low-E glass is often made with pyrolytic low-E coatings, although sputtered high-solar-gain low-E is also available.
Save energy and lower your utility bill by installing energy efficient windows from Nick's Glass & Mirrors.