Mirrored Walls
One of the most effective ways to enlarge almost any room is to apply a mirror to one of it's walls. This instantly draws light into the room, amplifies it and creates a sense of enlargement of the space. Essentially a mirror is a thin layer of metal that has been applied to a sheet of adhesion.  Because of this it is very important to have any mirrored wall installed professionally.  You do not want to have the mirror come loose, suddenly slide off and break or become unstable over time. Almost every mirror installer appears to have done an excellent job installing a mirrored wall at first. It's only after a period of time has gone by do you find out if it has been installed properly or not. Even if you are considering selling your home in the near future, you don't want to risk having a mirrored wall break unexpectedly on the new homeowners.
We install all types and sizes of mirrored walls. Any size and any shape. The application of our mirrors is installed professionally and you can trust that the adhesion will stand the test of time. Give us a call today for a quote for your mirrored wall.
Brandy Lee
2019-03-22T15:49:04+00:00
Fireplace Mirror Wall Frame Nick's Glass & Mirrors installed a [...]
Mirrored Walls – Gym Mirrors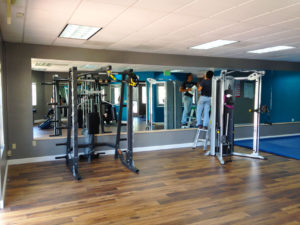 Serving Orange County gym mirror installation, dance studio mirrors and any custom room mirrors of all types and garage gym conversion mirror installations. What's a gym without a wall mirror? Optimize your workout and call up Nick's Glass & Mirrors to get your gym wall mirror installed today.
Nick's Glass & Mirrors will install a home gym wall mirror or a commercial gym wall mirror. We have thirty years experience with both types.
Home Gym Mirrors
You can transform almost any room in the house into a home gym. Adding a wall mirror for the gym home room is the best worth for the money. Improve your workout, enlarge the room and make your home gym complete with a gym wall mirror! We provide custom home gym wall mirror solutions.
Mirrored Walls – Ballet Studio Mirrors
We provide full studio wall mirror installation. Any studio mirror design or customization needs you may have can be done! Call us today to find out what your options are to bring your studio to the next level!
Did someone in your studio get a little to excited and break part of your studio mirror? If so, we can help with a mirror repair or replacement.
Mirrored Walls – Martial Arts Studio Mirrors
Nick's Glass & Mirrors offers martial arts studio mirror installation to fit any dimension or size requirements. We measure and custom fit the best walled mirror solution for your studio.  In addition to a fast, custom and professional walled mirror install we offer the best prices in town.
Mirrored Walls – Wardrobe Mirrors
A popular and appealing bedroom upgrade is adding or improving the wardrobe mirror. This instantly makes the room look bigger, increases the rooms lighting and provides an important feature to help with getting ready for the day. Bedrooms benefit a great deal when a wardrobe mirror is installed. There are several ways to add a wardrobe mirror to a room.
Mirrored Walls – Bedroom Mirrors
Bedroom mirror installation for a standard wall size or custom.  We offer full walled mirrors, panel mirrors or custom designed wall mirror installation.